Christian Crusade Newspaper


Christian Crusade Newspaper

In our 58th year - Founded by the late Dr. Billy James Hargis - Publisher: Billy James Hargis II - Managing Editor: Keith Wilkerson

Abortion gift certificates are being sold by Alaska's Planned Parenthood – in an apparent mockery of Christmas.
"The certificates are being sold in Anchorage as part of Planned Parenthood of the Great Northwest's effort to raise funds for their organization," reports Stephanie Samuel of the Christian Post newspaper.
Alaska Family Council President Jim Minnery said Planned Parenthood's efforts are meant to mock those whose faith dictates that abortion is morally wrong.
"They have a true disrespect and disdain for those who have a true faith," he told the Press. Minnery said he believes their holiday efforts are a not-so subtle "poke in the eye" of pro-life advocates.
The Alaskan fundraiser is the latest effort in Planned Parenthood Federation of America's Christmas fundraising endeavors.
In the past, PPFA sold "Choice on Earth" Christmas cards.
The cards featured a variety of designs, including two doves (one white, one gold) holding olive branches.
Other cards stated "Seasons Greetings" and "Happy Planning for the New Year" while featuring white silhouettes of a parent and child on a pink background.
"Planned Parenthood has enjoyed poking Christians with sticks at Christmas, mocking the birth of Jesus with their unique holiday greeting cards," said Jill Sedlak, executive director of America's Life League.
Planned Parenthood President Gloria Feldt had dismissed such criticisms in the past, saying their greeting cards were popular among America's pro-choice majority for almost a decade and that they send "an inclusive seasonal message for people of all faiths."
However, the controversy lies in the origin of the phrase "Choice on Earth."
It is a spinoff of the biblical proclamation of "Peace on Earth" when angels announced the birth of Jesus Christ in Bethlehem.
Pro-life groups are outraged over the use of the word "choice" to link abortion to a day which celebrates the birth of Jesus.
In 2007, PPFA seemed to have dropped the promotion of its holiday cards.
PPFA President Cecile Richards sent a 2007 holiday e-mail stating, "As I reflect upon the past year and consider the next, I can't help but feel a sense of good will. Good will towards the women, men and families that we serve. Good will toward you, my Planned Parenthood family."
There was no mention of the card.
However, the certificates have continued with other holiday gifts, including summer releases of "I Had an Abortion" t-shirts and holiday PPFA-themed gift certificates. An advertisement for a vasectomy certificate states, "Give the gift that stops giving … a gift certificate for a holiday vasectomy at Planned Parenthood."
Minnery said it is offensive that Planned Parenthood would use the Christmas season to propagate the message of abortion and says it is misguided if it believes that the right to choose an abortion is as sacred as the Christmas story.
PPGNW operates five clinics in Alaska as well as clinics in Idaho and Washington. It is currently challenging a new Alaskan state law mandating parent notification and approval of abortions for youths 17 and younger.
Planned Parenthood

selling abortion gift cards

From the December 2010 issue of Christian Crusade Newspaper, now in our 58th year of publication ~ Billy James Hargis II, Publisher ~ Keith Wilkerson, Managing Editor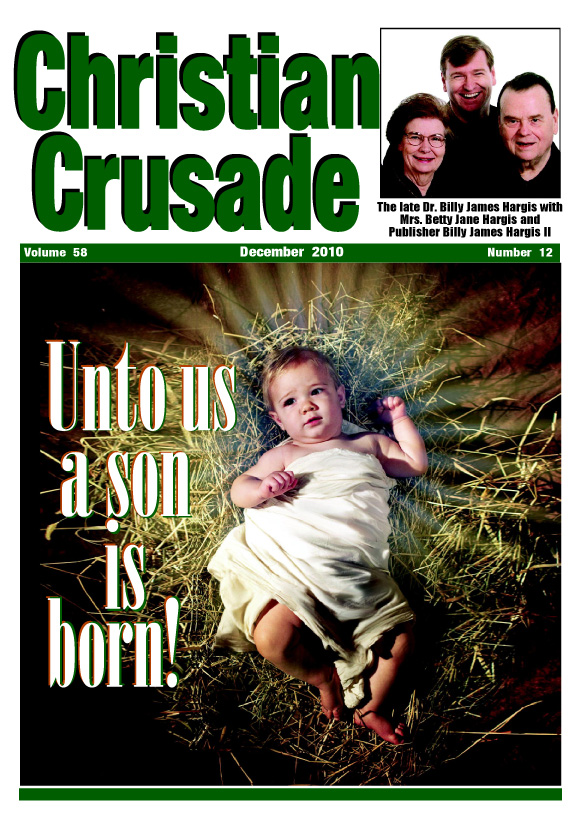 Click "Home" to go to home page

Our founder & our last 59 years

We'll email you news notices!

We depend on your donations

Read our December 2010 edition

Read our November 2010 edition

Read our October 2010 edition

Read our September 2010 edition

Mother of four faces martyrdom

Media hides truth about Topekans

WikiLeaks tells why he did it

Yes, we can pay off the deficit!

Christians put on 'hate group' list

Will the madmen attack our ally?

Obama tries to seize the Web

Is the battle really over? No!

Court denies any 'right' to kill