Christian Crusade Newspaper


Christian Crusade Newspaper

In our 59th year - Founded by the late Dr. Billy James Hargis - Publisher: Billy James Hargis II - Managing Editor: Keith Wilkerson

An incredible experience

from  Christian Crusade Newspaper, now in our 60th year

of publication ~ Billy James Hargis II, Publisher ~ Keith Wilkerson, Managing Editor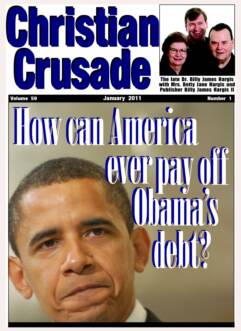 Click on the cover above

to see the entire newspaper! 

Click to return to current month

Our founder & our last 59 years

We'll email you news notices!

We depend on your donations

Read our December 2010 edition

Read our November 2010 edition

Read our October 2010 edition

Read our September 2010 edition

Mother of four faces martyrdom

Media hides truth about Topekans

WikiLeaks tells why he did it

Yes, we can pay off the deficit!

Christians put on 'hate group' list

Will the madmen attack our ally?

Obama tries to seize the Web

Is the battle really over? No!

Court denies any 'right' to kill

I just had an incredible experience. I watched 2016: Obama's America.

You will need to see it for yourself to decide the value of its message, but those in the crowd were profoundly touched. Toward the end of the movie, a couple in their 60s were yelling at the screen -- proclaiming their approval just as they would a good football game.

As the film ended, the audience stood and applauded. One man called out "More!" As we filed out, a woman was sanding in the aisle, staring up as the credits rolled. Her face was tear-stained. A friend stopped to comfort her.

A man out in the hallway was on his cellphone. He was calling friends, telling them he would pay their admission price if they would get there in time to watch the next showing.

Outside, the lobby was full.

"How was it?" called one man.

"Incredible," answered an apparent friend. "It'll change your mind."